To Lhasa
As the southern route to Lhasa is usually awash with melting snow at this time of year we have to backtrack to Ali, luckily there's is a truck going our way. As we leave Darchen, black clouds open and spit hail stones down on us and the bouncing empty truck becomes a mud bath. At least, amazingly enough, no breakdowns.
Fighting stomach problems we grab our next lift to Gertse along with a hitch hiking monk and three other Tibetans. At night we stop by a river where a fire is lit and tents are put up. Do it yourself butchers hack a sheep carcass to pieces to be boiled for dinner, of course a meal is never complete without yak butter tea and tsampa. The boys make a party of the night bringing out piju (beer) and local the fire water.
The next day we pass a borax lake where the white salt is extracted from its murky waters. Everything is coated in white. Tibet is a gold mine of untapped mineral resources, one of the many reasons for China's vested interest.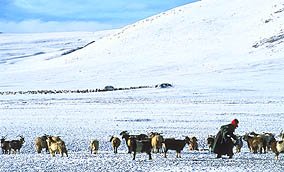 At Gertse we face the problem of sorry no foreigners at the Inn, though with the help of some locals we manage to get a room with no smiles. It takes us three days to get out of this dust bucket town and on the road to Shigatse, 920km away. Finally we get a lift for the right price with a convey of four trucks carting borax to Lhasa. Using the 'Lonely Planet's' language section we manage to communicate with our cheeky driver, Tenzin. He takes a liking to the word 'shitty' which he uses constantly while pointing at the would be road.
One morning we wake to one of the most beautiful sights that I saw in Tibet. A blanket of white snow covered the surrounding hills and plains, nomad tents smoke in the distance, yaks huddle together for warmth and young girls herd goats. Nomads dressed in traditional Tibetan costume walk across the plain to check out the foreigners.
We travel through snow and mud getting stuck more than once. There are a few more welcome restaurants and truck stops on route, and even sometimes a place to stay. We pass nomads on the move, yaks packed with tents and belongings and sheep and goats herded by children across the huge, wild land. They wave and smile shouting 'Tarshee delai' as our paths cross.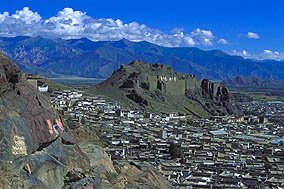 The scenery begins to change as we approach central Tibet. Nomadic tents give way to sedentary villages. Finally I find out where all the tsampa comes from as we pass by golden fields of barley. Plants begin to grow again at around 3000m and the villages seem more friendly and hospitable than those of Ali and Gertse.
On day 5 we pass the Friendship Highway which leads to Nepal and hit asphalt as we head into Latse. Here we see foreigners in hired jeeps who have just crossed over from Nepal. We walk through the town to avoid trouble for our truckie mates, feasting on the Tibetan village scenery.
On the last pass we face a double banger blow out which delays us another couple of hours. As the lights of Shigatse shine on the horizon we breathe a sigh of relief it's been a long hard trip, averaging a slow 18 hours a day. We relax too soon as a check point takes us all by surprise. We duck down and Tenzin starts to sweat. The police unfortunately spot us and ask Tenzin to get out of the truck. Tenzin comes back resting his head on the steering wheel. "Sorry Tenzin", we apologise. He turns his head smiles and says "I love you", and we laugh our way into Shigatse.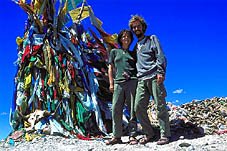 Lisa and Andre Ismael www.babylontravel.net