Preparations
| | |
| --- | --- |
| Kashgar , Xinjiang - China | |
Provisions
Ville Chinoise situee a la frontiere d'un vaste desert s'etendant sur plus de 4000 km et aux pieds des hauts sommets du Karakorom, Kashgar a constitue pendant des centaines d'annees un oasis inespere pour les marchants de la route de la soie.
Aujourd'hui, son fameux bazarre du Dimanche continue d'attirer des foules. On dit que la population de Kashgar enfle de plus de 50,000 en cette occasion.
Bien que Kashgar respire la modernite et que ses grands boulevards soient remplis de voitures modernes, il n'y a rien comme une charrue tire par un ane pour mener ses produits a bon port.
C'est ici que nous nous sommes prepares pour notre grande aventure au Tibet. On y a trouve plein de delicieux plats preemballes, bien preserves et secs. On a achete pour vingt kilos de bouffe, des manteaux, des mitaines et des chapeaux de l'armee chinoise pour nous tenir au chaud. Nos sacs a dos sont plein a craque, on n'arrive a peine a se deplacer sous le poids...
* * *
The western most Chinese city, Kashgar, is located at the north of the high peaks of the Karakorom and on the east of a 4000 km long desert. For centuries merchants of the silk road came through the Torugart Pass to the west to profit from this oasis and trade their goods.
Its famous bazarre continues to attract crowds. It is said that its population swells by 50,000 people every Sunday by traders, barders and sellers.
Despite a fresh breath of modernity blowing through the city, there is nothing like an old donkey cart to carry your goods to the market.
We also used Kashgar as a trading post. We bought everything we needed for our big adventure into Tibet. We found coats, hats and mittens from the chinese army and bought for 20 kilos of food(dry, well preserved and pre-packed). Our packs are about to burst and we find ourselves still wondering how to carry it all.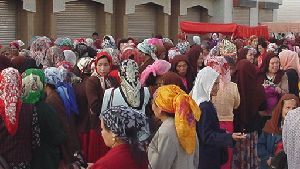 Sunday Market
Au bazarre, Les Femmes et Hommes de metier esperent faire de bonnes affaires. Des centaines de dames "Uyghur" y viennent y presenter les fruits de leur labeur: des sacs plein de chapeaux brodes pour hommes.
Les Uyghurs constituent un majorite de la population de la province chinoise Xinjiang. Ils parlent une langue turque et sont musulmans. Ils ont beaucoup plus en commun avec leurs voisins Pakistanais que leurs envahisseurs Chinois.
C'est tout un monde qui separe les Uyghurs des Chinois. Une division qui se materialise dans la mode de la gente feminine, entre autre chose.
Une jeune Chinoise porte la mini-jupe et les souliers plate forme de la derniere mode, du moins l'idee qu'on s'en fait. Alors que la jeune Uyghur continue de porter le voile pour cacher ses cheveux, la longue robe rose ou bleu poudre a dentelles decorees de paillettes argentees.
* * *
Workers of all trades from near and far converge on the Market in hope of doing good business. Hundreds of "Uyghur" women come to show off, barter and sell their beautiful handicrafts: embroidered men hats.
The Uyghurs compose the majority of the population in the Chinese province of Xinjiang. They speak a Turkic language and are Muslims. They have much more in common with their Pakistani neighbors than with their Chinese government.
There is a huge division between Uyghurs and Chinese. A separation which finds expression, amongst other things, into its feminine fashion.
While Chinese girls tend to follow the latest Western fashion, the Young Uyghurs model after their parents. They still wear scarves to cover their hair and they dress in colorful long pink flowery dresses adorned of many shiny tiny sequins.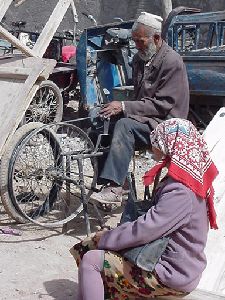 Knife Sharpener

Certains autres incorporent exercices et travail. Un peu de pedalage pour mieux aiguiser vos couteaux.

* * *

Some people cycle to work, some people cycle at work.

Might as well get some work done too.





Barbier

Les barbiers de tous les ages offrent la meme coupe: le rase bol et la barbe longue.

* * *

Barbers of all ages offer the same deal: a head shave and a beard trim and an invigorating massage to polish the old dome.



Balance

Les poids et mesures d'une epoque revolue continuent de faire preuve de leur ingeniosite.

* * *

Ancient scales continue to prove of their usefullness.



Metallurgie

Les "metallurgistes" se font entendre a des milles a la ronde. Il n'y a rien domme de marteler une feuille de metal pour attirer l'attention des passants.

* * *

The metal workers keep passers by aware of their business by hitting metal sheets with hammers.



Tea Break

Entre une coupe de cheveux et la vente de ses brebis, une bonne tasse de the desaltere de la chaleur de midi.

* * *

In between a hair cut and the sale of a few goats, there is nothing like a hot tea, shade and conversation for a break from the heat and dust.



Shepherd's Bargain

Les bergers discutent de la valeur de leurs troupeaux. Une poigne aux cuisses et l'autre aux cotes bat tous les slogans publicitaires. Les negotiations sont longues, s'echauffent parfois, mais ne finissent jamais mal.

* * *

Shepherds boast of their flocks' worth, but a good pinch on the thighs and ribs will beat any marketing slogans. Negotiations can be long and heated sometimes, but end with good feelings.



Traffic

A moins qu'un camion ne decide de faire de la vitesse au moment meme ou une chevre decidait de brouter les restes d'un melon laisse a pourrir au beau milieu de toute cette cacophonie.

* * *

Every thing is happening at once, but it all seems to flow. Unless a truck speeds up just as a goat decides to slurp up a melon left to rot in the middle of this crazy cacophony.



A L'aise

Ce vieil homme nous a paru tout a son aise au centre de ce bombardement auditif, olfactif et visuel. Sans doute a-t-il developpes des trucs pour y naviguer.

* * *

This elder man appears comfortable despite the mayhem.



A La Recherche Du Passe

Les gens ages attirent l'oeil. Leurs yeux n'ont pas la timidite des plus jeunes. Ils portent en eux un passe, une culture, une epoque qu'on aimerait faire renaitre.

* * *

Elderly people attract our curiosity. Their eyes are not as timid as their younger cohorts. They carry with them a past, a culture an epoch that we would like to visit.






Sans doute une photo nous y aidera. Une image ne vaut elle pas mille mots.

* * *

Maybe a picture will help. Isn't an image worth a thousand words?