The Story of Kymys




Long ago the Kyrgyz people were at war with their neighbors. Many battles were fought and both sides were suffering. The Kyrgyz king was wounded and died shortly after. During the burial ceremony, an enemy tribe ran from the hills and killed everyone they could find. Only a young boy and girl, who had been collecting berries, survived.

* * *

Il etait une fois? les Kyrgyzez etaient en guerre avec un peuple voisin. Il y eut plusieurs batailles au cours desquelles les deux cotes avaient subi plusieurs pertes. Le roi Kyrgyze, mort des suites de ses blessures encourues a la guerre fut enterre avec une grande ceremonie. Les tribus ennemies en ont profite pour tuer tous les Kyrgyzes presents. Seuls un jeune garcon et une petite fille occupes qu'ils etaient a la ceuillette de mures y ont echappe.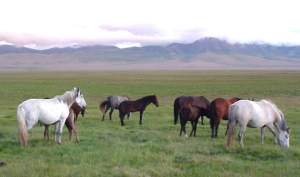 They walked for many days and became very hungry and tired. One day a wild mare approached them. Since her own foal had been killed by wolves and her teats were full of warm and nutritious milk, she adopted the children and nurtured them until they were old enough to have children of their own. The Kyrgyz people continued to live with horses, treating them with love and respect.

* * *

Sans parents et laisser a eux-memes ils ont marche pendant plusieurs jours et sont devenus affames. Une jument sauvage don't le poulin venait de mourrir les auraitadopte et nourris de son lait jusqu'a ce qu'ils soient assez vieux pour donner naissance a leur tour.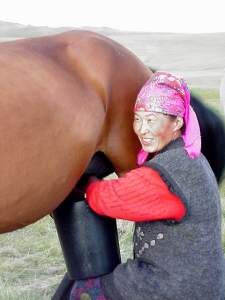 When people traveled on horseback they would carry the milk in animal skins. Due to the agitation and the sweetness of the milk it would ferment. This in time becomes the favorite beverage of young and old alike. It is called Kymys and is the national drink of Kyrgyzstan.

* * *

Aujourd'hui encore, les Kyrgyzes continuent de vivre en harmonie avec les chevaux, les traitant avec amour et respect. Lorsque les gens transportaient le lait de jument, ils utilisaient des peaux de chevres. La chaleur et le sucre du lait causaient une certaine fermentation qui avec le temps est devenue la boisson favorite du pays: le Kymys.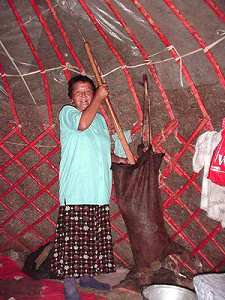 Today it is still brewed as it has been for centuries. The season runs from March through August, as these are the months of the mare's lactation. The mares are milked several times a day. The fresh milk is added to some that is already fermenting, usually held in a goatskin. The goatskin is smoked to impart a more robust flavor. The milk is then churned with a special plunger called a "Bishkek? which happens to be the name of the Kyrgyzstan's capital city.

* * *

Le Kymys se fait brasser encore de nos jours. La saison est de Mars a Aout alors que les juments nourissent leur poulin. Les gens font la traite du lait plusieurs fois par jour. Le lait frais est alors ajoute au lait deja fermente. On le brasse bien grace a une grande louche de bois qu'on appelle Bishkek d'ou vient le nom de la capitale du pays. Le tout est entrepose a l'interieur d'une peau de chevre afin d'ajouter un gout un peu plus robuste.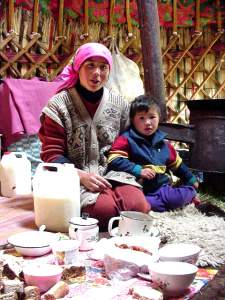 It is a full-bodied drink that is sweet, sour, smoky, bubbly, creamy and mildly alcoholic all at the same time. I've seen old toothless women drink several glasses and infants tipping back baby bottles full. It makes one strong and robust and helps just about anything. More than once I've been told that our childless status would be remedied if we drank more Kymys.

* * *

C'est une boisson un peu sucree, sure, fumee et cremeuse avec un faible taux d'alcool. Tout le monde adore le Kymys. Les jeunes hommes s'en soulent, les enfants s'en nourissent, les bebes s'en gavent et les femmes s'en servent comme medication. On s'est fait dire plusieurs fois que la raison pour laquelle nous n'avons pas d'enfants c'est qu'on ne boit pas assez de Kymys.