Kol-Ukuk
| | |
| --- | --- |
| Kol-Ukuk , Kochkor - Kyrgyzstan | |



Une fois arrives a Kol-Ukuk, deux enfants ont accouru a notre rencontre afin de nous diriger vers le Jailoo de leur famille. Nous voila donc dans la maisonnee de Cholpon (17 ans) et Marilan (24 ans), des nouvezux maries et parents d'un poupon de six mois, Kutman. La grand-mere de 43 ans mene la galere et quelques neuveux se montrent plutot serviables, lorsqu'ils ne tombent pas dans le tonneau de Kymys bien entendu.

* * *

Finally at our destination, Kol-Ukuk, looking for a hosting family, two children came running after us to invite us in. At last we were home at Cholpon (17 years old) and Marlan's (24 years old) 's yurt. Newly wed with a six month old baby. Joruman, the grand-mother (45) runs the whole show while a few nephews are always good help to have around.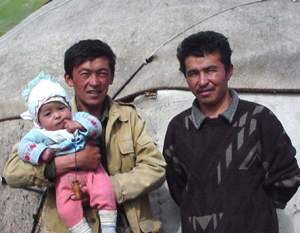 Kutman est cute, adorable et aime de tous. Tous les visiteurs lui volnet une caresse et un bec. Certains aiment bien lui taquiner le petit penis qui pend hors d'une ouverture faite expres dans ses pantalons. Etant donne que Christopher et moi sommes sans enfant, souleve pitie chez nos hotes. Cholpon a donc decide de nommer sa premier fille Helene en mon honneur. Je dis bien sa premier fille, car elle vient tout juste d'entreprendre une famille de dix et ce avec entrain. Ouch!
Les berceaux sont tres interessants. Un trou muni d'un recipient remplace les couches. Un petit rectangle de plastique entoure le penis et dirige l'urine vers le bocal a cet effet. Le bebe doit etre couche sur le dos de telle sorte qu'aucun degas ne survienne.
Pour ce qui est des selles, la technique m'echappe. Il semble qu'elle n'ait pas encore ete paufinee pour en prevenir l'etalage sur les draps. Qu'attendent-ils? La est la question.
* * *
Kutman (the baby) is cute, adorable and loved by every visitor. Men and Women alike beg him for snuggle or a squeeze. Some seem to enjoy tickling his tiny dangling penis. Since Wylie and I don't have children, our hosts took pity on us and Cholpon offered to name her first daughter after me. "First" girl since she is happily in for a family of five or ten. Ouch!
They have a very interesting style of baby cradle, where a hole in the bed with a jar underneath fulfills the diaper's function. A plastic bag wrapped around the penis pointing towards directs all urine into the jar and keeps the baby and his garments dry. The baby sleeps on his back and must be strapped down to avoid any misalignment. The number twos seem to just plop in the hole on their own.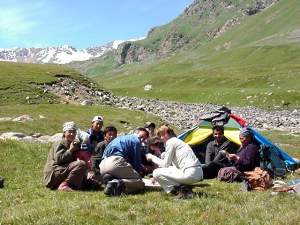 Ils nous ont acceuilli comme si nous etions membres de leur famille. Apres une annee loin de nos proches, ca faisait du bien. C'est une communaute tricotee serree comme on dit chez-nous. Il semble difficile pour ses membres de devier de la norme. Un peu comme si le tricot ne pouvait supporter la tension cree par cette deviation. Il me semble qu'un choix se presente a tous, ici comme chez-nous. On choisi la norme en communaute ou son destin de facon individuelle.
On parle et reve d'une communaute ou tous et chacun a une place. C'est ce genre de communaute que notre famille adoptive mene et ce n'est pas sans prix.
Les seuls moments qu'on reussissait a passer seuls etaient dans nos reves, en visitant les toilettes ou encore lorsqu'on partait en ballade vers les montagnes. Autrement, nous etions constamment entoures de visiteurs, qu'on lise ou ecrive ne paraissait pas les ennuyer suffisament pour les eloigner de notre tente.
Ils recrees le genre d'ambiance familiale qu'on se reserve pour les celebrations annuelles du temps des fetes, de facon quotidienne. Chaque repas prend une heure, les oncles et tantes jouent avec les neveux et les nieces. On commence et termine tous les repas avec du chai (the). Des morceaux de pains sont etendus un peu partout afin de s'assurer que tous et chacun recoive suffisament de nourriture. Chaque personne est servie selon son rang d'honneur. Les invites d'abord, puis l'homme le plus ages, suivi des enfants et des femmes.
* * *
Marlan's family have taken us in as if we were part of their tribe. After a year away from friends and family it feels really good. Their community is woven tight and to deviate from their way is very difficult. If one deviates too far, one can't fit in their tapestry anymore and must find his/her own way.
A dream we often idealize is to have a community where everybody is looked after. This is the way of life around here but it comes with a price.
The only time we had to ourselves was while sleeping, attending to our toilet needs or away from the yurt, on a hike. When in our tent, reading or writing, we received multiple visits.
They make a daily ritual of the quality family time that we reserve for the holidays. Each meal takes an hour. Starting with chai and ending with chai or Kymys, everyone eats from the same serving bowls. Pieces of Nan (a type of flat bread cooked on top of their stove) are spread everywhere to make sure everyone has enough food. Each person is served following his or her rank of honor. Guests are always served first, followed by the eldest male down to the children and the women.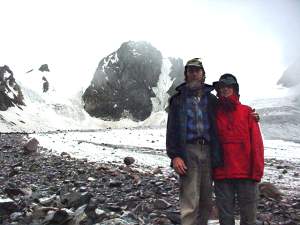 On a bien profite de l'emplacement de ce Jailoo pour visiter ses lacs alpins, glaciers et multiples tapis de fleurs. Les montagnes Kyrgyzes sont tres pluvieuses. Nous avons donc quelques fois ete trempes jusqu'auz os et perdu notre visibilite.

* * *

We did a lot of hiking around pristine lakes and glaciers. Some days we were bathed in warm sunshine. Other days brought fog, rain and snow. These mountains receive so much rain/snow that it is impossible to pick a "dry season", there is only July and August which are "less wet". By hiking 10 to 20 miles a day, we always managed to exhaust ourselves well enough so that sleeping came easily.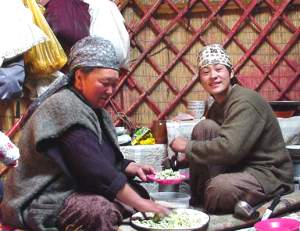 Nous avons passe une journee bien tranquille au Jailoo, afin de pouvoir mieux comprendre la vie yurtique. Les femmes nous ont semble etre responsables de presque toutes les taches. La traite des vaches et juments doit se faire trois fois par jour qu'il pleuve, neige ou grele. Elles font la cuisine, le Kymys et le Kaimak (crème et beurre) qui se vendent au marche. Une journee de beau temps les incite au lavage. Un peu de couture les tient occupees pendant les temps morts.
Les enfants s'occupent du sechage de la bouse de vache qui leur sert de combustible etant donne qu'il n'y a pas d'arbre dans le coin. Ils s'occupent egalement de rassembler les troupeaux lors de la traite, et quelques fois partent a la ceuillette d'onions sauvages et de cocos. Ces cocos sont une espece de plante don't la tige est tendre et accompagne bien leur fameux Kaimak (crème). C'est bien sur sans compter sur la possibilite que l'un d'entre-eux ne tombe dans le tonneau de Kymys lorsque le chef (la grand-mere) a le dos tourne.
Quant aux hommes, mise a part le mari de Cholpon, ils m'ont paru faineants. Une peche rarissime, beaucoup de temps assis a parler ou boire semblent etre leurs responsabilites.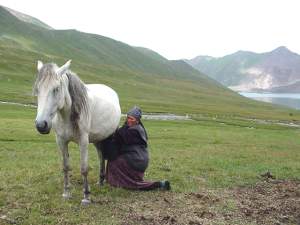 Some days we spent around the yurt watching the world go by with the rest of the family. The daily chores of milking mares and cows must be done three times a day under rain, hail or snow. Some baking, cooking, bathing and a little sowing keeps the ladies busy. The kids attended to their stove fuel production: cow and horse manure is constantly gathered, set out to dry and covered at night or for rain. That is of course counting that one of the kids doesn't fall into the barrel of Kymys while the boss is out, that is the grand-mother. One of them got a bit looped one day and gave us all something to laugh about.
We often contributed by heading for the hills to gather wild onions and thistle adding great flavor when added to their cream and butter spread.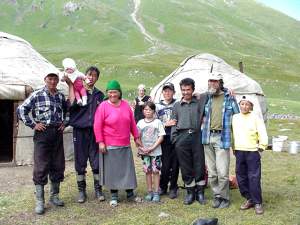 Toutes ces taches ne sont jamais accomlies rapidement. Elles prennent leur temps et se gardent des heures pour visiter avec leurs voisins et bien sur acceuillir les voyageurs arrives a l'impromptu.

* * *

Even thought most of the responsibilities rely on the women, they never carry out their daily tasks hurriedly. They like to take their time and allow plenty of time for visiting and laughing. Some of the men around tended to either drink or talk too much.






Lorsque le soleil tombe, le frois s'installe et force tous et chacun as se regrouper pres de la chaleur, d'une tasse de Chai et d'une bonne soupe. Les touristes deviennent une source de divertissements sans pareil. On a passe une soiree a se montrer des trucs de magie. Christopher a remporte la palme d'or avec la piece de pain qu'il a fait passer de mon oreille gauche a mon oreille droite, sans trop affecter mes cellules cerebrales. Ils ont d'abord paru degoutes puis l'un d'entre-eux a decouvert le truc et s'y est donne a coeur joie. Ca nous a tous valu bien des rires.

* * *

As soon as the sun disappears behind the horizon, the coldness brings everybody around a cup of chai, bread and Kaimak (cream). Looking at each other for some divertissements, we showed some magic tricks. Wylie certainly won the championship with making everyone believe that he could blow a ball of bread from one of my ears to the other without affecting my brain too much. It grossed a few people out, until they slowly figured it out. Meanwhile we all had a great laugh. Wish Wayne had been there. One of the kids wanted grand-mother to show off by removing her false teeth. She declined the offer.