Kingdom Come
Collapse of Time
We are nearly half way around the world and, from our best estimate, half way through our trip. Once we cross the Torugart Pass into China we will be on our way home. Every passing kilometer bringing us closer, not further, from our friends and family.
The first half of our trip has been open ended. With no real itinerary or objectives, the future was malleable, foggy, and full of surprises. It also seemed to stretch out of sight and could not be fixed in time. Other than a few variations on a theme, the second half of our trip has taken on an itinerary with dates attached. Our arrival home will probably be next summer.
This has had the effect of virtually collapsing in time the remainder of our trip. Even though our return date is around a year away, I have a sense of experiencing our arrival in Boise! This increased timetable "resolution" makes the events seem much closer in time, almost as though our arrival is only a week away.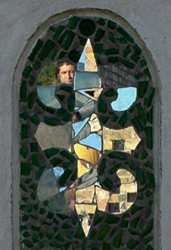 Five years ago Helene and I traveled to SE Asia for 3 months. At first we had many plans and objectives. In order to fit everything in we had to make a schedule. This had the same effect of collapsing our entire trip and we felt as though we would soon be boarding our plane back home.
We promptly gave up the hope of "doing it all", tore up our schedule and headed to a remote island. We forgot what day it was and time seemed to both stand still and stretch into eternity.
The End Is Near
I had a much more sobering experience of time collapsing when I meet with a financial advisor to plan for my retirement. I walked out of her office feeling "The End is Near" and that I needed to get my funeral details ironed out.
Even though the whole premise that I would hold a steady job and save X dollars for Y years was absurd, the meeting left me depressed.
I mulled it over for a year. Then I decided was going to "die with my boots on" and that I didn't need to save for years of non-productivity. What is a life incapable of contribution worth anyway? I was now free to declare myself semi-retired. Even though I will always salt a bit away for a rainy day, by and large I have decided to let the future work itself out.
I cut myself loose from the hell bound train and let it race on to its "deadline" alone. My life was rededicated to living it fully. I want to follow my bliss here and now instead of waiting for the "golden years".
My kingdom has come and I am worthy of it.
Back to the Schedule
And what about arriving home "next week"?
Who knows? I just spoke to my brother about meeting in the Philippines next summer and buying a small sail boat to sail from island to island for a few months.
And with October approaching and since Helene and I would be in the neighborhood... it might be nice to get an apartment and spend the winter working down under in New Zealand... I've also heard nice things about Fiji...