Vitaly Gergert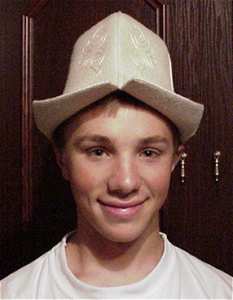 A peine descendus de l'autobus, en route vers un hotel des moins interessants, un jeune Russe nous offre de nous y conduire gratuitement. Sa politesse et son excellent usage de l'anglais, nous font accepter son offre sans hesitation aucune.
En moins de dix minutes, on s'est vus invites chez sa grand-mere pour souper, son pere pour dessert, son grand pere pour le the et son appartement pour la nuit.
Il nous a offert non seulement une chambre, mais egalement l'usage de son ordinateur avec acces internet. C'est ainsi qu'on a pu effectuer plusieures appels interurbains aux Etats-Unis pour moins d?$/heure. Malheureusement, tous les numeros canadiens etaient bloques.
On a cherche l'attrappe, mais tout ce qui en est sorti furent des coeurs d'or, une generosite exemplaire et de nouveaux amis(e).
* * *
Barely out of the bus, heading for a soviet style hotel in Bishkek(capital), a young Russian, named Vitaly, proposes us with a free ride. His politeness and great English made us jump in his car without much hesitation.
Next thing we knew, we were at his granny for supper, his dad for desert, his grand father for tea and his apartment for the night.
Happy to have escaped the less than appealing hotel, we were offered to stay at his flat for as long as we wanted and use his personal computer with access internet. This is how we called many friends and family in the US, via the free calling internet site Dialpad.com.
Looking for the catch, we found none except hearts of gold, an amazingly generous family and new friends.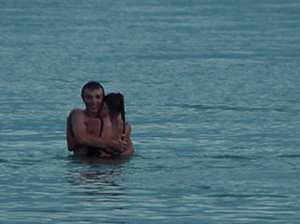 Une fois nos formalites completees(obtention de visa etc..) , Vitaly nous offre de le joindre sur une escapade au Lad Issyk-Kul avec sa copine, Nada. Ils sont tres jeunes. Nada vient tout juste d'avoir 15 ans et Vitaly 18. Il se trouve que Christopher et moi avons l'age exact du pere et de la mere de Nada?

* * *

After some inevitable waiting in line and visits to embassies, Vitaly invited us to join him and his sweetie, Nada, on an escapade around Lake Issyk-Kul. As it turned out, Nada had just turned 15 and Vitaly 18. Wylie and I are of the exact same age as Nada's father and mother?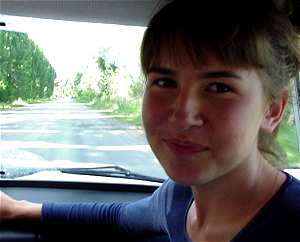 Alors que la musique Disco et Rap commencait a nous sortir par les oreilles, on a gentiment motive nos comparses a chanter des chants populaires russes. Nada en avait de belles, alors que Christopher nous a fait part de sa fameuse chanson du Mountain Goat.

* * *

Disco and Rap music coming out of our ears, we gently tried to motivate our new friends to sing some Russian folk songs. Nada has some great ones and Wylie couldn't help but share his famous Mountain Goat song.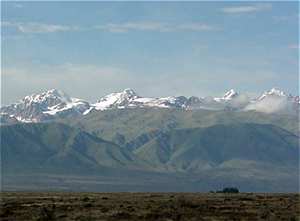 On s'est vite vus captives par le paysage qui nous entourait. Les Tian-Shan/Celestial Mountains faisaient leur apparition de partout. Cette chaine de montagnes traverse les frontieres de la Chine et du Kazakstan avec des sommets de plus de 7000 metres d'altitude. On commencait a serieusement avoir des fourmis dans les jambes.

* * *

Soon the countryside caught our attention. We were entering the Celestial Mountains/Tian-Shan playground. This mountain range crosses over to China and Kazakstan and has many peaks reaching 7000 meters. We were getting very itchy feet.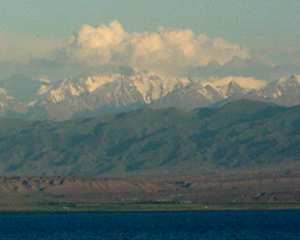 Le lac Issyk-Kul est central a la culture Kyrgyze. Son nom signifie "lac chaud? Malgre son altitude de 1600 metres et ses multiples affluents d'eau glacee, sa temperature peut atteindre 20 a 22 degres Celcius, et sa surface ne gele jamais. Sa salinite, faible activite thermique ainsi que sa grande profondeur (600 metres) contribuent au maintient de son agreable temperature.
En longeant ses rives de 170km de long, on a ete surpris de voir ce lac borde de facon constante par des sommets alpins.
* * *
Issyk-Kul lake holds many legends and captures Kyrgyze people's imagination. It is a warm lake despite its 1600 meters elevation and its innumerable icy-cold streams flowing down to it. Its mild salinity, extreme depth (600meters) and thermal activity, all contribute to its great swimming temperature (20-22 degree Centigrade). We drove its 170km length and were surprised to find it bordered on each side by a never handing chain of high peaks.
It is said that its bottom was never reached. Who ever ventures deep enough to figure it out is sucked into its depth and never seen again.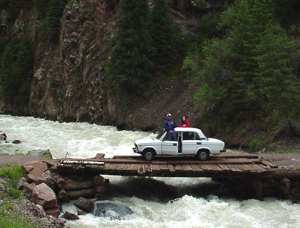 Notre chauffeur Vitaly, a su manier le volant sur des routes souvent difficiles. On s'est retrouve dans des paturages impressionants. Entreprendre la montee des sommets ne fut pas toujours possible du a l'instabilite de la meteo.

* * *

With Vitaly for driver, we did some extreme driving up a few canyons. Ended up camping in some incredible pastures. Heading for the peaks was not often possible because of the stormy weather.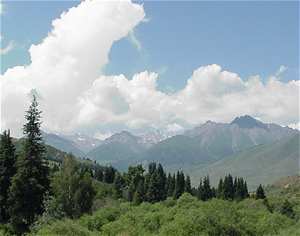 Les bergers du Kyrkyzstan se refugient dans les montagnes durant l'ete. Ils y enmenent toute leur famille qu'ils abritent dans une Yurt. Celle-ci peut se monter et demonter en moins de 4 heures. Ces bergers sont beaucoup plus amicaux que leurs comparses du Lesotho. Ils adorent partager avec les etrangers leur fameux lair de jument fermente, le Kymis.

* * *

Kyrgyze sheppards keep heading for the mountain every summer. They live with their family in an idyllic landscape in a yurt all summer long. They are much friendlier than their Lesotho colleagues and eager to share their traditional kymys (fermented mare's milk).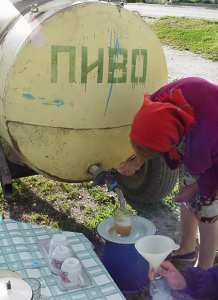 Sur le chemin du retour vers Bishkek, nous n'avions plus que 4$ dans les poches. Nous avons donc du nous familiariser avec les modes de vie alternatifs que certains sont forces d'adopter.
Tout d'abord, nous avons fait le plein d'essence au pres de dames qui vendaient du petrole vole, a bon prix. Ce gaz venait de Kumtor, une compagnie canadienne d'extraction d'or. Kumtor partage ses recettes dans des proportions de 40%-60%, avec la Republique Kyrgyze. Le peuple est pauvre et semble garder rancune contre cette compagnie qui exploite leurs propres richesses naturelles. D'etre Canadienne n'est pas tres glorieux dans cette region du monde.
Une fois notre bagnole bien rassasiee, mon mari a retouve son gout pour la biere. La plus abordable nous a ete vendue par une vieille dame obligee de suppleer a sa faible pension par la vente de biere.
* * *
Driving back to bishkek with a meager four dollars amongst all of us, we were introduce to the alternative life style of many Kygyze people. We first fuel with stolen gas that a couple of women were selling at reduced price. The gas comes from Kumtor, a canadian run gold mine. They are sharing their profit with Kyrgyzstan at a 40%-60% ratio.
The poverty is rampant around here, many people are resentful that a foreign country may extract and profit of their own natural resources. The glory of being Canadian is thin in this part of the world.
Once we fueled, my hubby found himself in need of a beer. The cheapest is the one that pensioners make and sell to supplement their close to nothing income.






Apres une semaine passee dans la nature, on s'est fait offrir un bain saunat a la russe, qui ne se refusait pas, par la grand-mere de Vitaly, sa babushka, comme on dit en russe.

* * *

After having passed a week in the bush, we were offered a russian style sauna at Vitaly's granny, his babushka. The steam roared and we swatted one another with Birch branches.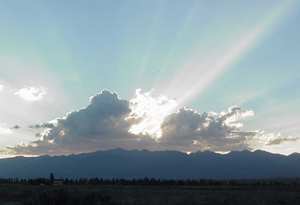 La Republique Kyrgyze est un pays pauvre. Depuis la chute de l'URSS, plusieurs entreprises on ete forcees de fermer. La famille de Vitaly en a grandement souffert. Son pere n'a pas la pension qu'il esperait, sa mere a perdu son emploi recemment et sa grand-mere est presqu'entierement dependante de sa famille, pour sa subsistance.
Voila donc Vitaly dans une drole de position, a 18 ans, un passe academique deja impressionant, il est devenu l'espoir de sa famille. Une responsabilite qu'il prend a coeur. Il etudie a l'universite et apprend l'Allemand et l'Anglais de facon intensive.
Les souches allemandes de son pere, lui donne droit a la nationalie allemande. Il compte donc émigr?tout en poursuivant ses etudes afin de mieux accomlir ses responsabilites financieres. Il adore sa mere patrie et y reviendra aussitot qu'il le pourra.
L'Allemagne a ouverte ses portes a tous les Allemands ainsi que leurs descendants s'etant vus deplaces suite a la derniere guerre mondiale et l'invasion sovietique. C'est ainsi que Vitaly a droit a sa nationalite allemande de par les parents de son pere.
* * *
Poverty is rampant in this country. Many industries were forced to close down following the fall of the USSR. Vitaly's mother has recently lost her job as an economist, his father is left with a much lower pension than what he had hoped for and his grand mother is depending on them for her subsistence.
At 18 years of age, with an impressive academic background he has become the hope of his family. It is a harsh responsibility that he is eager to fulfill. He studies to College and is learning English and German intensively.
His father's German ancestors, provide him with the German nationality, if he wants to. He therefore plans to emigrate to better fulfill his financial responsibilities after what he hope to return to his beloved motherland.
All ex-soviet citizen with German ancestry have been recalled to their once motherland. Indeed, Germany has a very open immigration policy for the heirs of those who were displaced during the second world war or following the soviet occupation.
Vitaly welcomes all travelers to contact him concerning transport, lodging, visa hassels, hiking and parasailing!
Vitaly Gergert at vitnas@imfiko.bishkek.su