Fiji (most favorite)
Friday - 18 Dec 1998
Fiji
After the volleyball game the guys turned into fighting monkeys on the coconut trunk across the pool. The idea was to knock the other guy off without falling off. Being of small brains and lots of testosterone, this went on for more than an hour. But the gals loved the show and there wasn't any surf to be had anyhow. The pool was the only redeeming value of the Coral Seashell - the first jump off point for surfers who don't have the funds to go to Tavaru isle which you can see from shore but can't surf. In fact, Cloudbreak has some thugs in a boat that come out to charge a reef tax to surf it. Since the reef weren't breaking I never experienced this personally but the surfers there said it amounted to about $10US per head. The boat taxi was $25 Fijian.Sooo.....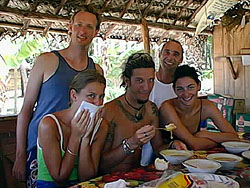 We followed this crazy looking french school teacher, Sullivan, sitting between the two english models to this desolate isle inhabited by wonderfully kind people. Sullivan is also a hot surfer but the airline lost his surfboard. He picked up a boogie board along the way.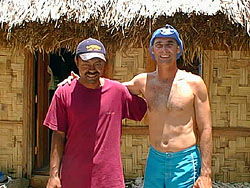 The best english speaker and kind host Elija treated us to fried bread fruit and let me use his fishing pole everytime we went out to the reef to surf. About 7 people, men and women worked at the compound of palm palapa hut on the white coral beach island. It was very primative but quite a bonding experience with our castaways and locals. They were all friendly and welcoming in showing you their lives and the way they lived. It was $60 Fijian per day which included 3 meals and the surf taxi out to the reef. The reef was about 45 minutes in one direction and the captain would fix a lunch while waitng on use to finish our surf session. I caught one good day out of three there but it was just 5 surfers on the break. I heard about alot of other breaks off small surrounding islands but we didn't have time to explore.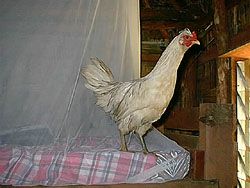 Does this chicken look a little angry? You should have heard the squawking when we came into our grass hut to find that Francis, another french surfer, had covered her favorite laying spot, with a mosquito net. She would looked at us and squealed and then looked at the bed, over and over. She finally gave up on getting us to understand that she wanted us move the net. She settled in on the unoccupied lower bunk and poof an egg appeared.
These folks are South Africans on the road looking for a better place to live. If South Africa felt a little safer you couldn't find a better place to live.
Our stay on the island was short but intense on relationship building. They all came to the waters edge to hoola dance and wave us way. It was so touching we wanted to turn back and stay but they were leaving too, the next day or so. Jolie began to hate always having to say good-bye. These moments in life are like the pleasures of a day flower.You enjoy the beauty and the scent, sealing it in your memory and be grateful you saw it in its passing.