Bushwalking through the Rainforest
Thursday - 28 Nov 2002
Brisbane - Australia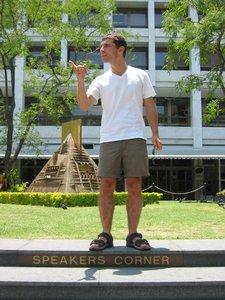 The drive from Rainbow Beach to Brisbane was uneventful and only took us 3 hours. We found a great little hostel near the downtown, grabbed pizza for dinner and crashed for the night. The next day was our only day in Brisbane, so we tried to make the most of it. We wandered around the downtown core and spent some time on Queen Street, the pedestrian street mall. While on Queen, we managed to do a few errands that had been piling up for a few weeks. The downtown was charming and had a number of Italian- Renaissance type buildings that were worth seeing. Afterwards we crossed the Victoria Bridge to the South bank and wondered around the grounds near the Performing Arts Centre. We spent some time in the riverfront park relaxing and admiring the view of the city. We were still exhausted from our Fraser Island trip so we headed back to our hostel and relaxed for a few hours. We ended the night by cooking a great dinner and eating it on the balcony of the hostel, while enjoying a nice view of the city.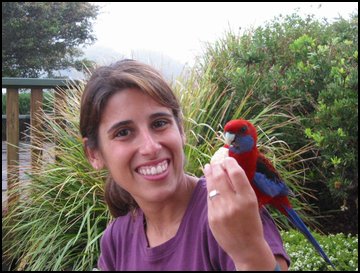 The next day we drove to Lamington National Park, which is a rainforest park located 1.5 hours south-west of Brisbane. We reached one of the park entrances (located at O'Reilly's Rainforest Lodge) by lunchtime and got ready for our bushhike. The weather was poor and looked like it was going to rain. Nevertheless, we were determined to do our hike, regardless of the weather. While getting ready by the car, a number of colourful birds landed on the car, our shoulders, and our head in order to help themselves to some of our bread. They were so friendly they even posed for some pictures.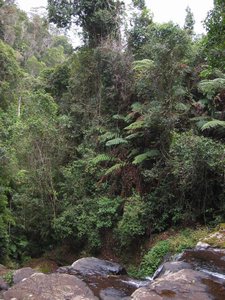 We entered the park (which turned out to be a subtropical rainforest) and got a chance to see some beautiful trees, gorges and waterfalls. One tree in particular that was all over the park is called a strangler fig tree, which surrounds and kills the host tree over a period of 400 years. The end result is a large fig tree that forms an outer shell with no centre. We walked onto a canopy walk, which was about 100 feet above the ground, but for us it was nothing like the highly unstable canopy walk that we had done in Malaysia. We managed to walk for 4km before the real downpour started. We enjoyed the rain by standing near a waterfall in our rain ponchos and eating our lunches. Given that the rain did not look like it was going to subside, we decided that it might be best to make our way back to the car, so we spent the next 1.5 hours slowly heading back. Despite the rain, the trip was interesting and we had a great time. We got back to our car around 5pm and drove directly to the beach town of Surfer's Paradise.