The Koalas of Yeppoon
Sunday - 17 Nov 2002
Brisbane - Australia
We picked up our white Toyota Ascent car early on Sat, Nov 16. The cost of the car wasn't that bad (only $945 for 3 weeks) but Australia has this strange thing with insurance which makes you responsible for damage, regarless of how it happens. They call this an excess fee and it can be as high as $4000. We found a place were the excess fee was reduced to $300 and covered us for everything (except for car damage). The car was fine, but we had to adjustment our driving, given that the steering wheel is on the right hand side of the car and that Oz drives on the other side of the road. After a couple of close calls driving into oncoming traffic, we learned quickly to adjust to the country roads. The only difficulty we had was trying to signal a turn with the left indicator that actually engaged the windshield wipers. While our signaling was pretty weak, our front windshield was extremely clean!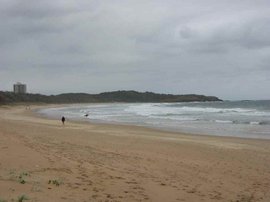 We drove straight from Sydney to Brisbane (1000km) which took us almost 12 hours. The road was fine and uneventful, except for the occasional kangaroo in the distance. We arrived in Brisbane at 10pm, exhausted but glad we had covered the far distance in just one day. We checked into a great hostel and were given beer vouchers for the bar downstairs. After dropping our stuff and changing clothes, we headed downstairs for a drink and got a chance to see a great live band, which sounded a lot like Our Lady Peace. We had a drink (or 2) and stayed out dancing and partying until 2am.
The next day we got up early and drove north for another 7 hours. The drive north of Brisbane was a little boring compared to the drive south of Brisbane, since most of the drive was spent passing flat, wide open fields. We decided to spend a night in Yeppoon, which is a coastal town just East of Rockhampton. We grabbed some dinner in Rockhampton on the way (we broke down and ate some bad Pizza Hut) and checked into a very laid back hostel in Yeppoon run by a hippie couple that looked like former backpackers. We watched some TV with some of the other travellers and crashed for the evening.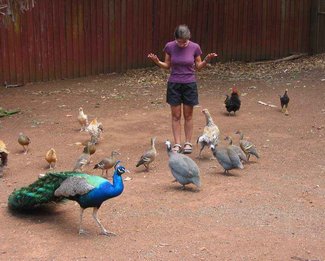 The next day we decided to break from the driving and spend a day enjoying Yeppoon. We followed the advice of the hostel owners and drove out to Cooberie Park. An elderly couple owned this "zoo" and were extremely hospitable. At the entrance we met the wife, who was busy feeding 8 young birds, of which 3 were owls. We then walked into the park area and were immediately surrounded by chickens, roosters, ducks, peacocks and fowl looking for food. At the gate we were give 2 bags of food that we were supposed to use for the kangaroo. All the animals were used to tourists and were eagerly following us around the park grounds, hoping that we would feed them.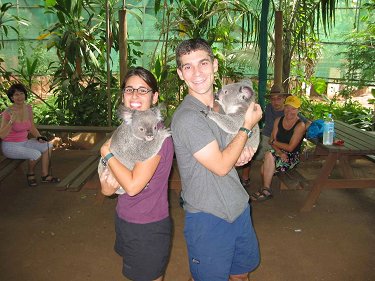 We wandered around and saw the Koalas (who were sleeping) and found the kangaroos, that were roaming freely in the park grounds. A few of them saw us and quickly hopped over and ate some of the food that we offered right out of our hands. The kangaroos were cute and pretty tame. We than walked around some more and saw osterichs, dingoes, emus, crocodiles, snakes, 2 donkeys and a wombat. At 1pm we went to watch the Koala feeding. The husband, Joe, brought out 2 Koalas, gave us some info about them and then allowed us all to take a turn in holding them. The Koalas were extremely cute and very friendly. Holding a Koala was remarkably like holding a baby (except perhaps a little more furry).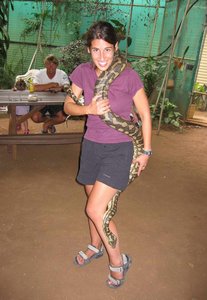 Joe than pulled out a python, who did this trick of kissing the guests on the cheek. We both got a kiss and took a turn in holding the snake. The snake got a little friendly with Jen and wound its way down Jen's leg which was amusing to all of us (except Jen). Joe then allowed us to bring the 2 Koalas back to their home and took out a young Koala called Christine. Jen had a chance to hold her for a while. Christine had just been weened and had not been handled a lot so after a few seconds in Jen's hands, she bit Jen while looking for milk. While it did not hurt, it was startling and we all had a good laugh. Jen had to explain to the Koala that sadly, she had no milk to offer her. We spent the rest of the day walking around and feeding the animals. We said our goodbye and thanks to Joe and his wife at 5pm and headed back to our hostel. We briefly went to see the beach but it was nothing special so we did some laundry, grabbed some dinner and went to sleep since we knew that the next day's car ride up to Airlie Beach was going to be another big travel day.