Tequisquiapan
Sunday - 24 Feb 2002
Tequisquiapan - Mexico
Well I was supposed to go to Michoacan this weekend. That trip fell through. I ended up going with some friends to another place, though, called Tequisquiapan. I know that is hard to pronounce, I think its Aztec or some kind of indian name.
I went to Tequisquiapan on Sunday with four other foreigners- sitting on the bench in this order: Alistair, Jennifer, Sheila, and Roger. Jennifer lives in the same house as I do, and she is from Minneapolis like me. Alistair is from Ireland, and Sheila and Roger are both from Rhode Island. The bus ride there cost 20 pesos and took about an hour. Chatting in English on the way, I found out among other things that Roger is from Barrington, RI, and knows one of my best friends from college. Quite a coincidence! Also, like me, he was in band in high school, as a trumpet player, which he told me is the "brother section" to the saxophone (I play saxophone).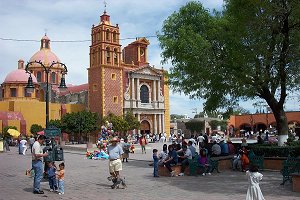 This is a really cool looking church, in a really cool looking plaza in the center of Tequisquiapan. The markets were all located very near to this plaza.
Later in the evening in this plaza, someone was holding some kind of religious revival meeting. There was a choir singing, which looked and sounded sort of like a gospel choir, only Mexican-style.
The first thing we did was to walk around in the markets downtown. There were lots of crafts and things for sale. Basket weaving is evidently very popular, because there were many baskets and wicker things for sale.
Next we walked around the streets of Tequisquiapan, looking for a good "comida corrida."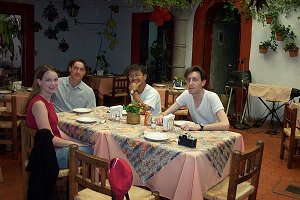 After searching around a bit, we ended up at this restaurant. It was very good, though we each spent close to $10 American, which is expensive for a comida corrida. Considering how good it was, though, thats not too expensive. We had a shrimp cocktail, bread with tasty salsa. Then I had spaghetti, some of us (Ali and Jennifer I think) had a cabbage soup. Then for the main course, I had salmon with mashed potatoes. That was probably the first thing I have eaten in Mexico that was made using neither chiles nor tortillas. Some of the others had Chuleta (pork) in chipotle sauce, or something like that. I was completely stuffed by this point, but dessert and coffee were still to come. For dessert I chose a vanilla pudding-like dish. Some of the others opted for the cake, because it had chocolate frosting on it. I almost did, but then I thought, no, I have to order the most "Mexican" thing availible. The pudding dish had cinnamon on it, so I got that.
Before coming to Mexico, I had expected to eat lots of things made with cinnamon. (When you go to cafés in the USA, if they have a "Mexican Mocha" or something, that usually means a regular mocha plus cinnamon.) But I hadn't eaten much cinnamon since coming, so I went for the pudding dessert. It was good.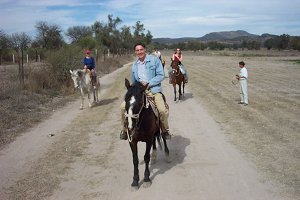 We were all almost asleep after such a big lunch. But the main thing we had come for was yet to come- horseback riding! We went to the area where the horse guys are, and after initial offers of 60 or 70 pesos, we each got an hour on a horse for 50. I asked the name of my horse, but I forget it now.
Sheila's horse, the white one, had been sick. (Sheila didn't know that until after we had started riding.) She was much thinner than the other horses. Sheila could tell it was struggling on the path, and she felt really bad to be riding her. The kid kept having to threaten the horse by whipping her with the rope. We all felt sorry for the horse!
Roger had my digital camera for most of the horseback ride, so he gets credit for most of those pictures! I had to make sure he got in a horseback riding picture too, though- so here is one of Roger, taken by me, at the end of the ride.
After the ride, Ali, Roger, and I played a little basketball in a park. After that, we all headed to the bus station to return to Queretaro. We watched the end of "The Mummy" on the bus. We were all very sleepy by the time we got to Queretaro!