Bukara
Bukara is like an open air museum. The old town comprises several square kilometers. Small twisting streets lead to large open plazas faced with medressas, mosques and Caravansaries. Many of the plazas once contained pools but most have now been filled in.
Le vieux Bukara est une veritable ville-musee de plusieurs km carres. Des rues tortueuses trouvent la voie entre les maisons faitent de bouse sechees qui menent aux multiple plazzas decorees de Medressas, Mosques, Caravansaries. Des bassins d'eau parsement ce decors afin de rafraichir l'air aride et torride.
A medressa looks similar to a mosque from the street: a large tile covered facades with a high roofed portal leading to the interior courtyard. The medressa however is an Islamic school building and small rooms used as dormitories surround its courtyard.
Une Medressa ressemble enormement a une mosquee, de l'exterieur. C'est en fait une ecole islamique et non pas un endroit de rassemblement pour les fideles de l'islam.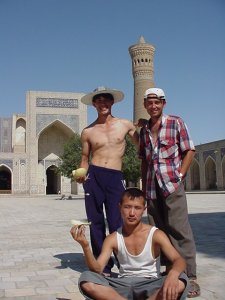 After being closed down during the Soviet era, there are now a dozen different Medressas functioning in Bukara. Some are even for women.
Aujourd'hui, Bukara peut se venter de posseder une douzaine de Medressas acceuillant des centaines d'etudiants. Tout un changement depuis l'epoque sovietique ou l'on utilisait les Medressas comme entrepot ou meme stationnement pour les vehicules. Plusieurs d'entre-elles on du subir d'importantes restaurations avant de pouvoir redevir fonctionnelle. Karimov semble motive a recontruire/restaurer rapidment sans tenir compte de l'ethique de la science archeologique. Des sommes importantes sont investies sur des fondations souvent endommagees par l'elevation de la nappe freatique. Le tout donne des resultats un peu hollywoudien voire parc d'attractions.