South Entrance Road
Tuesday - 11 Jul 1995
Wyoming - U. S. A.
Coordinates of Mental Map of Place
It's morning and I'm driving north on the South Entrance Road and the abrupt rise of the Tetons looms increasingly larger and larger. The snow line is low this year-promising high rivers, clouds of mosquitos and vast areas of quicksand. Dark, wispy clouds tickle the lofty heights of the Grand. That means big thunderstorms are likely in the country east of the big mountain in the Bridger-Teton National Forest-the Teton Wilderness.
Warp and Weft
As soon as I could read a map as a young child, my mind's eye started focusing on northwest Wyoming, which, in the tongue of environmentalism, is called the Greater Yellowstone Ecosystem. I speak that tongue. Sometimes I even believe its myths, and the Yellowstone ecosystem is a place where myth and landscape are woven together in intricate tapestries. Each tapestry contains little universes, seperate and yet part of the whole. One human lifetime shrinks to insignifigance in the face of such a thing.
I badgered my father to take me to this place, but he refused. He found comfort and safety amidst the techno-chaos of the Mid-Atlantic and his hunger did not lead him to places like northwest Wyoming. My hunger, however, was an entirely different matter. My lifetime obsession has been to touch universes that lie beyond the pincer grip of my kind.
Once in college, I started working summers as a seasonal ranger in Yellowstone National Park, and things that I'd seen on my maps finally came to life all around me. The amazement I felt during that first summer I have kept with me ever since and this place has become the focal point of my existence.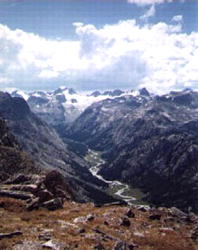 Of late, my focus has been the Teton Wilderness and the Washakie Wilderness. Through a twist of fate I have been invited to co-author a guide book for Falcon Press called Hiking the Teton Wilderness and Washakie Wilderness, due out in the spring of 2000. We are charged with taking this vast landscape and compressing it into 100,000 words.
If you spend enough time wandering a landscape, you imprint yourself upon it as much as it imprints itself upon you. You develop a mental map, a series of images and dreams as it were, woven together by time and space. Stories spring like arrowleaf balsom root on a warm May afternoon from these mental maps, and in the telling become myths. It is myth that imprints place upon the culture of man.
Our society is no longer able to differentiate between myth and braggidacio. We sink into a kind of moral bankruptcy where place becomes something we toy with instead of experience. Mythology is reduced to mere narcicism. You can see the narcicism in front of the Tetons in the form of smog left there by the frenzy of sports utility vehicles that storm up and down the South Entrance Road in search of brightly colored nylon and vanity license plates.
Copyright © Lee Mercer