Friday, March 18
Friday - 18 Mar 2005
Cuttack , Orissa - India
Field trip to the Wildlife Park
Today is a special day for several reasons. We are taking the kids to the wildlife park in Bhubaneswar, and adventure they are ready and waiting for. Also, for all of us except four who are staying an extra week, today is our last day at the ashram.
Arriving in the morning, two buses loaded with children filled with anticipation are waiting for us. A few extra load up with us in the SUVs - in the back with me pile Santosh, Asap, Bikram and Miilly. The boys are really excited to be riding in the car with us, and can barely contain their smiles as we set off.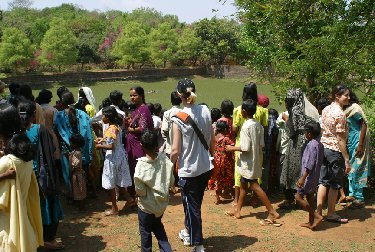 It's the hottest day yet, and we find spots of shade along the way at the park. But it's beautiful and exotic and we all have a terrific time. Indian elephants, antelope, tigers, and crocodiles are some of the animals we see - and even though they live in their native habitat, this is the first time most of the children have seen the real thing. For me, it's incredible seeing the actual animals in the land they came from, not captured and sent to a zoo from somewhere else. Many of the animals were injured or otherwise endangered when they were brought to the park. We see a leopard which was captured when it was discovered loose in a public toilet in Cuttack!
Papa has brought biscuits (English tea cookies) and bananas for a snack. Because they have a peel which protects the fruit, the volunteers can actually eat the bananas. I'm excited for fruit! But even better, these aren't supermarket bananas. No, this is an entire stalk of bananas cut right from the tree, and each banana peeled from the stalk.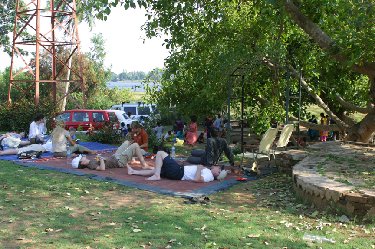 Picnic at the Botanical Garden
After the wildlife park, we head to the botanical gardens which are across the lake. It is beautiful here, a large expanse of lily- and flower-covered water surrounded by lush trees and vegetation. At our picnic spot, other staff from the ashram have arrived early and already prepared the food. We eat the delicious meal on blankets spread on a bluff under the trees, as the children eat in a clearing just below us. After lunch, the kids take advantage of the playground equipment just next to us - slides and swings and a merry-go-round.
The volunteers spread out on the blankets, laying back and relaxing, enjoying the happy day. After a while, when some of the kids have gotten their fill of the playground, they invade our blankets and start massaging our legs, our feet, our backs. I have seen them do this to each other; they're so cute, so adorable, and I know how much I'm going to miss them. Srabani is kneading my neck and back while Daina massages my legs. Daina is one of the 20 or so newer children who do not yet have sponsors; I have decided that I am going to sponsor a new child and have been waiting all week to see which of the unsponsored children seems to develop a special bond with me. Daina has always been by my side, taking my hand and bringing me her drawings and singing me songs. I take her aside and ask her if she'd like me to be her sponsor; she drops her head and smiles shyly, which I know to be a yes. She's so beautiful, as they all are, and the sweetest little girl imaginable. The only bad thing about this trip is how much I know I'm going to miss all of them.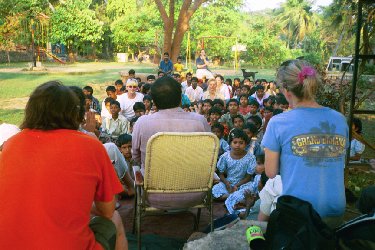 Final Prayer
Papa gathers the children on the blankets to tell them that, for six of us, today will be our last day with them. It's a bittersweet moment, and I notice tears in the eyes of many - including all of us volunteers. Santa pulls the hem of her dress up to wipe under an eye, and Daina looks over at me, her new sponsor. I hold Santosh's hand as Papa thanks us all for being here this week, and asks us to come back - not in 2006, but in 2005! He leads the children in a cheer: "2005! 2005!" they cry, clapping their hands. We tell them how much they have given us this week, how much we are going to miss them, and what incredibly special children they are. Caroline admonishes them to study hard, especially their English.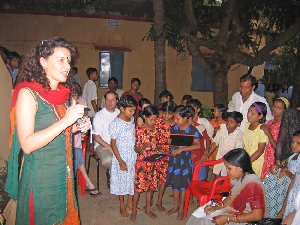 Then Papa leads the chant. "Om...om..." I listen to the voices rise in the final prayer with all of us, and I think of the meaning of the words as the song ends with "sandi, sandi, sandi." Peace to the world, peace to the universe, peace to every heart. I do feel a peace, for myself and for the children. I know it will be hard for all of us to part, and we'll all be a little sad. But the joys of the visit have outweighed that by tenfold, for us and the children. Over the course of the week I have seen the shy ones come out of their shell, personalities emerge, self-confidence blossom. I can feel that these kids know that they are special, and that we love them, and that we represent an even larger group of people back home who care about them a great deal. We will be leaving something with them that is invaluable - and taking something invaluable back home with us as well.
Goodbye - only for now
Back at the ashram, the kids (and us!) are exhausted from the long day, some of them barely able to keep their eyes open. The Miracle Foundation people who will be staying have gone on from the field trip, and only myself, Kathleen, Bunny, Lara, Matt and Chris go back to the ashram a last time.
Miilly brings us four girls again back to Mama's room for a final visit. Her daughter Jully is there, with her brand new baby son, and we visit with her for a while. Then Fetal, Srabani and a couple other girls come in to give us a good-luck ritual; Mama has mixed a red powder into a bowl of water and the girls begin painting our feet. Intricate red designs around our heels, our arches, and across the tops of our feet, we are given luck and a blessing. Mama disappears for a while, and when she comes back we discover why. She has walked down the street to a shop to buy us a going-away token. Kneeling down, she slips an ornate toe ring onto both feet of each of us. Hugging us all, she reminds us again that we are family now, to consider her and Papa to be our new family in India, and to please come back again.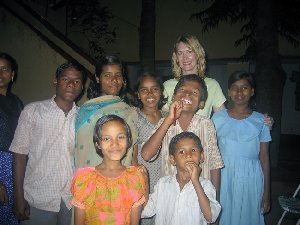 It's time to take our leave. Santosh is there, and I get down on my knees to give him a hug and a kiss. His eyes are wet, and almost magically one of the staff appears beside us to translate - necessary because I want to tell Santosh so much and I'm speaking so fast I know he couldn't keep up in English. I tell him how happy I am to have come all the way here to see him, and get to know him. I tell him that we will write to him all the time, and ask him to keep sending us pictures and drawings. "Study hard," I say, "especially study your English. I want to hear how much you have improved when I come back to see you again!" Finally, I tell him that I love him and I give him another big hug - there's a smile!
Out at the cars, the kids are all over us. Throughout the week they have become less shy, more forward about holding our hands, sitting on our laps, seeking our attention. But they have not really, this whole time, yet been the ones to initiate hugs with us. They do now, though. For the first time, many of the most reserved kids throw their arms around me and hug me, kiss my cheek, tell me "I love you." I hug and kiss and love them back, these incredible and precious little people. These children have changed me in a multitude of ways, and taken up permanent residence in my heart. I know I will be back.