Monday - March 14
Monday - 14 Mar 2005
Cuttack , Orissa - India
Shopping in Cuttack
Monday morning Caroline has arranged a shopping trip for Lara, Bunny, Kathleen and I, escorted by two of the ashram staff, Miilly and Madu. Miilly is one of the most elegant women I have ever met. She is beautiful, with the grace and poise of royalty, her gorgeous saris floating around her, earning her the nickname we bestow of "floating Miilly." Madu is a little impish, with a mischievous twinkle in her eyes. We set off with the driver, winding through the chaotic streets until we are quite sure we're lost; then suddenly, at Miilly's command, the driver stops in front of a jewelry store. We traipse out, stopping the street's activity at once - here come the mermaids. We buy the traditional Indian ankle bracelets, and Miilly and Madu laugh at our custom of wearing them only on one ankle. They are sold in India only in sets, and worn one to each ankle.
Next stop is a very nice clothing store that would be right at home in a suburban mall. We start to take off our shoes at the entrance, but Madu indicates we shouldn't take them off. We're confused, unable to get the subtle nuances of the rules here. We finally understand that shoe removal is only necessary at private homes and family run shops, but not at the larger stores. The four of us have a blast trying on salwars, the short tunic with pants outfit that is worn by many younger Indians, very practical and comfortable. We have not seen many women here in Cuttack wearing them - the traditional saris seem to be the custom here.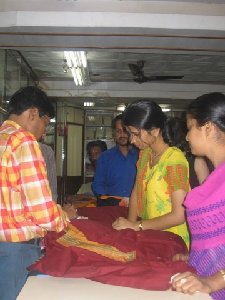 Indian managed chaos
The next stop, in fact, is the sari shop. Quite an experience, buying an Indian sari. We are buying one as a present for Mama, another for Mama's mother, and a third for the head house mother. Floor-to-ceiling shelves are stacked with folded saries of every color and intricate pattern imaginable, and the three shopkeepers pull down one after another, unfolding their splendor on the counters. Some of them Miilly simply waves away dismissively, saying "no, no." Others she turns to us and asks our opinion. "You like?" After much consideration we choose three and are on our way again, across the street to the last stop of the day, which turns out to be the most eventful and, for us Americans, exasperating.
It has been invaluable having Madu and Miilly as guides, to speak to the shopkeepers and take us to the right places, watching over us like mother hens. In this last shop, we are here to purchase hair clips for all the girls at the ashram, and boxes of bindis to take back home for Miracle Foundation events. We spend about thirty minutes choosing them as the shopkeepers bring out boxes of bangles and earrings for us, the walking rupees, to consider. We each pick out a few for ourselves, and insist that Madu and Miilly choose something as a gift, to thank them for being our guides. They, of course, resist heartily; but we do see Miilly coveting an ornate gold earring and necklace set. We select those, and some bangles for Madu that match her sari. We are ready, but the shopkeepers won't tally our sales. We pull out our money, the international symbol for "ready to pay. A young woman, the first female shopkeeper I've seen, cannot touch the money and recruits one of the men, who finally begins the tally - by hand, on a piece of paper.
Amazingly, when they get to the bindis and hair clips, they write them down individually, adding them one at a time on the paper. We have hundreds. Fifteen minutes drag by, then thirty, but there is nothing to be done. The heat in the shop becomes oppressive; it is two p.m. and none of us have eaten lunch. The counting continues. They bring out stools for us to sit on. We do not want to leave and embarrass Miilly and Madu.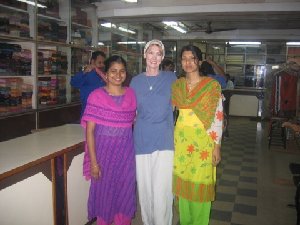 The Indian concept of time has been explained to Lara in a proverb, and she repeats it to us. Legend has it there is a great raven with a scarf in its mouth, that flies over the Himalayas once every thousand years, the scarf scraping a bit of snow off the top of the mountains. Eventually, the Indians say, the Himalayas will be worn down and completely scraped away. This, however, will take a very long time. Therefore, they believe that they have all the time in the world. There is never any hurry for anything, never any rush. Indian time is relative.
Finally, after almost an hour, the counting is done and the total announced. Four thousand, two hundred rupees. Now, up until this moment we have been amazed at how cheap everything is. A ten minute phone call home from the corner store was 50 rupees - little more than a dollar. Half an hour at the internet cafe, 10 rupees - about a quarter. Room service of half a tandoori chicken and tea, 135 rupees, or four dollars. 4,200 rupees, however, equates to over a hundred dollars. No, no, this can't be, it's too much, and Miilly vehemently protests. We put back half the bindis as Miilly continues to argue. The counting begins anew. Madu sends a boy down the street to bring back juice. The four wimpy Americans are fading fast.
After what seems an eternity, an agreement is reached, money changes hands, and we are finally on our way. We present Miilly and Madu with their gifts, which they insist we give them later, in front of Papa. Madu sidles up to me and gives me two hair bands from a package she has bought for all of us, a gift of reciprocity. We try to make them understand that our gifts are a thank-you to them for escorting us, but it is clear that they do not want to accept them without giving us something in return, and to not accept graciously will offend them. We part ways at the hotel, temporarily, as new friends.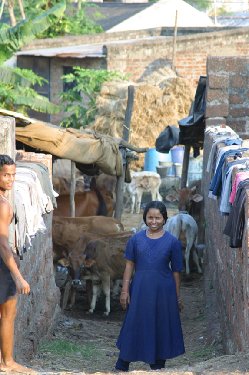 Village by the River
A few hours later, after food and rest, we head to the ashram for the rest of the day. Baxter, Matt, Kathleen and I leave first in the small car. Baxter wants to stop by the river, where some of the poorest villagers live, to take some footage for the documentary. The river is unbelievable – a shantytown really, with people selling what they can along the road or repairing bicycles. They bathe and wash clothes and dishes in the filthy river, in which I can't even begin to imagine the bacteria. This is the saddest part of Cuttack.
The driver pulls to the side of the road and we get out. Immediately, of course, life on the street comes to a halt. Everyone stops what they are doing and stares. Bicyclists, even, stop their journeys. Matt starts taking still shots as Baxter sets up his camera. Kathleen and I are a little more reticent, hanging by the car. We have learned that we need to be more careful, as women, and have been warned not to make eye contact with men we haven't met, outside the hotel and ashram. It is considered aggressively sexual, a come-on, in this country where the showing of a calf is scandalous. Coming through the airport security checks, there had been separate lines for men and women, with a curtained area set up for the women to be checked behind, out of sight of men.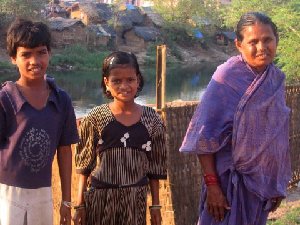 With the cameras out, people begin to venture a little closer. Like everyone here, they are polite and shy, but greatly intrigued. Kathleen and I start to take a few pictures. Soon, the villagers' curiosity overcomes their reserve and they come closer. A woman and her three children approach me uncertainly. I indicate that I'd like to take a photo and she nods. I snap it, then turn the camera around to show the little boys the shot on the digital screen. That does it – one thing I have learned is that people here, young and old, love to have their picture taken; and even more, they love to see themselves in the picture. Instantly about ten more kids are around, jumping in front of us and hamming it up for the cameras. The adults follow after a bit, too. We take photo after photo, showing them to the crowd. The adults giggle with embarrrassment, the kids laugh and thump each other on the back. It is likely the first time many have ever seen themselves.
A small crowd of men has gathered around Baxter's tripod. When he fumbles in front of the camera, the men quickly crouch down and peek through the viewfinder. Their curiosity couldn't be any greater if a UFO had landed in their midst. When the filming is finished and we are packing up, a man who Matt has photographed asks Matt for the picture. Somehow they manage to communicate that Matt will bring him a print photo if at all possible. Driving away, we ask Matt how he plans to find this guy again. Then we laugh at our own question. The man has probably never been more than a mile from that spot. Matt could return in five years and still find him in this very same place.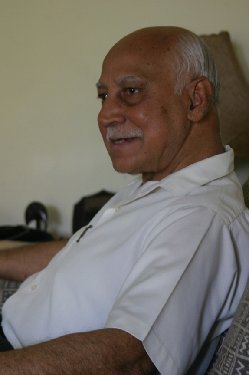 Aja
At the ashram we are introduced to Aja, the chair of the Indian board of directors for The Miracle Foundation. We play with the kids for a little while and then go up for prayers. The prayer time continues to amaze me. Girls on one side, boys on the other. The incense is lit and then Papa enters. A horn is blown, a tambourine is thumped. "Om….om…" Then the singing begins, the hundred sweet voices lifting and filling the rafters.
Playing Dress-Up With the Girls
When prayer is over, the girls grab my hands and drag me, along with Lara, Bunny and Kathleen, into their rooms where they pull out powder and lipstick, henna and face paints. They go to work on us. It's just like a slumber party, a couple dozen giggling girls of all ages, including us. Four start with the henna art on Bunny and Lara – two on their hands and two on their feet. Others powder mine and Kathleen's faces, then intricately paint Indian designs above our eyes. Daina, one of the little sweethearts I've fallen in love with, turns on her radio and starts dancing like she's on MTV. It's so cute. There's music and laughter, and when all four of us are powdered, painted and hennaed the girls parade us into the courtyard proudly to show off their handiwork. I think it's the most fun I've had so far.
Serving the Children
The dinner bell rings. Tonight we are doing something very special – we will serve the children. They file in and take their places, holding their plates patiently in front of them. We carry the huge pots of rice, dal and vegetables down the row. I am serving rice, and sometimes it sticks to the spoon so that only a little comes off onto the plate. I scoop another spoonful, while the children motion their hands over their plates to indicate they don't need more. I've seen these kids eat, seconds and thirds, so I know it's not that they aren't hungry. They are simply unselfish, wanting to make sure there's plenty for everyone else. They break my heart and make it whole again all at the same time. It is a humbling experience serving these children, and very, very gratifying.
Afterwards the adults go to eat in the courtyard. As we eat, Mama brings out small bowls of a custard similar to tapioca pudding. We can't figure out how to eat this with our hands, so of course Papa has to show us. Unfortunately, he chooses me to demonstrate, marching over to my seat. I brace myself because I already have a mouth full of chicken and rice. Papa takes my flat bread, dips it into the custard, and shoves the end of it into my mouth. Caroline is laughing hard. I now have so much food in my mouth I can barely chew, and although the custard is delicious, it doesn't taste too good mixed with the dal.
After dinner the chai is brought out, and then it's time to take our leave. As it will go every time we arrive and depart, the children swarm around the cars and clasp our hands, saying "good night" or "thank you" or "see you tomorrow."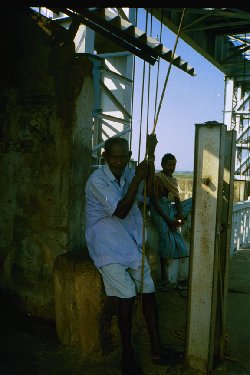 Amazingly, there seems to be even more traffic of bicycles, rickshaws, cars and mopeds at night than there was during the day. The shops and stalls are still open, and music wafts in from everywhere. We cross what we have affectionately termed the "Fred Flinstone bridge" – the toll road where sometimes we pay and sometimes we don't, where the gate arm is weighted on one end by bricks and raised on the other by a guard loosening the rope. Driving alongside the river, ahead we see a large group of people walking down the middle of the road, holding candles and singing. Some are holding something over their heads.
"You guys, it's a funeral procession," Caroline exclaims. We pull to the side to let them pass, maybe 30 or 40 people holding the body aloft, draped in cloth and flowers. Caroline tells us they will make a pyre to burn the body, then dump it in the river. I think of the children I saw earlier in the day bathing in that river, and watch the procession pass in silence.