Sunday, March 13
Sunday - 13 Mar 2005
Cuttack , Orissa - India
Sunday we spend the entire day at the ashram. Arriving, the welcoming committee is again in full force, excited to see us. This is what being a rock star must surely feel like. It is amazing and sobering how much these people love us, from their hearts.
The first thing we do, in the light of day, is tour the ashram. Papa is our proud guide, and we are able to see in daylight what was a mystery last night. We started in the newest addition, the teacher training compound. Papa and Mama now take in young women for several months at a time, who live at the ashram in separate quarters and train to be teachers. Mama herself is a teacher. Their quarters are a charming courtyard with richly colored saris hanging from the upstairs windows and doorways as we file through.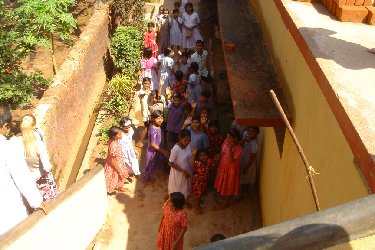 Next Papa shows us the brand new classrooms, and the dormitories. The children are sitting on their new bunk beds in each room as we enter, awaiting us and chanting "welcome" as soon as they spot us. Our shoes are quickly shed, put back on, and shed again as we move from building to building. The brand new bathrooms are a wonder for this village, where running water isn't even the norm. We are given a tour of the dining room with brand-new refrigerator, weaving room, guest quarters and finally, Papa's office. He urges us in, seating us like pupils in front of him while Miilly, a staff member, brings a tray of soda similar to Sprite. Papa begins one of his many pontifications, extolling The Miracle Foundation and outlining all the ways it has changed the lives of the children - all the things that have been made possible through Caroline and the incredible sponsors and donors she has endeared to the cause that is so much a part of her heart. Being here, I can see why. I have already falled in love with these children and Papa has told us that we are now part of his family. He gives thanks to God and The Miracle Foundation, seemingly in equal measure.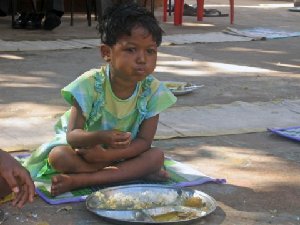 A special meal
The bell rings for lunch. The children suddenly appear in the courtyard, lined up in an orderly fashion and holding their aluminum plates. I have never seen such discipline, such politeness and incredible manners. These children are always, every moment, the most well-behaved kids I've ever seen, even the very youngest of them.
Today is a very special treat. The kids will be allowed to eat with the adults in the courtyard; usually they eat in the dining hall and the staff eat separately. We sit in rows on the floor of the courtyard. I sit next to Mantu. The staff comes along and spoons rice, then dal, then vegetables onto each plate. They all wait patiently and quietly for each to be served, for Papa to sing the prayer. A hundred-plus sweet voices rise after Papa's in song. Then, we eat. The kids scoop up their food with their fingers; fortunately we have been provided one spoon each, us crazy Westerners with our odd ways. The kids eat quickly, intensely, accepting seconds and thirds. I have never seen such tiny people eat so much. As they finish, they hop up and go wash their plates.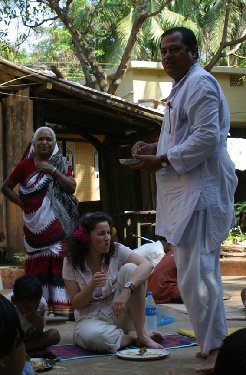 Then Papa comes along with sweets for the volunteers. He goes to Caroline first, picks something out of his bowl, and pops it right into her mouth. He does the same to each of us in turn. It is sweet, all right - sort of like a donut hole that has been soaked in caro syrup. We swallow it down, smile and thank Papa. I think we would eat almost anything in order not to appear ungracious to these incredible gracious people.
All have left their eating places and the courtyard is now empty of children save one - one of the smallest girls, Salu, still sits in the center eating. She is sweet and adorable, and I snap her picture.
Getting to know the children
After the meal we have some activities planned for the kids. We split up into four stations, and the kids are split by sex and age into four groups, meant to rotate around to each station. Anna and I go upstairs to the prayer room where we will be leading coloring and drawing. Baxter, Kathleen and Chris will lead games, Andy and Bunny music, and Lara and Matt other activities.
Anna and I get the crayons ready as the first group files in, the older boys. We seat them in two circles and pass out books, then carry the huge box of crayons around the circle. As always, they are shy at first, smiling bashfully and selecting only one crayon each. With encouragement, however, they each soon have a stack of all the colors beside them and are hovered over their books, coloring with all the intensity of da Vinci painting the Mona Lisa. Some of the coloring books come with stickers, which Anna and I put on each child's shirt. They wear them proudly, like badges. One of the male staff members comes in to check on us. He is soon like one of the children himself, putting stickers all over the boys' faces while they giggle in delight. You would never catch fifteen year old American boys doing this, or at least not showing that they actually like it - but these kids are having a blast. The younger boys come in turn, then the younger girls, all having equal fun.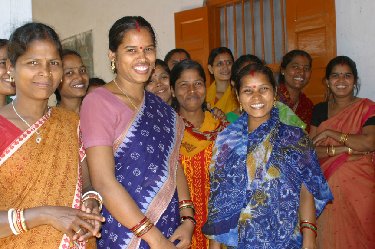 The last group, of older girls, includes the young women who are training to be teachers - it seems they want to participate just like the children. Kathleen comes up to our station for a while, and the teachers are absolutely fascinated with the three of us. Some can speak more English than others, and they teach us their words for eyes, nose, mouth, ears, belly. They ask me questions, so curious about us - how many brothers and sisters do I have, what are their names, am I married? They ask me what my parent's names are, their mouths twisting with effort as they try to repeat the names. "Char-lie Sall, Sun-dee Sall," they say, and then break into laughter at the funny-sounding names that are so hard to pronounce. They want to take us back to their quarters and dress us in saris and bangles, but Caroline says not today, we have other things planned.
When the coloring is over, a group of adolescent girls led by Srabani grabs me and drags me past their dormitory to a small temple in the middle of the ashram. Srabani, a beautiful and intelligent girl of fifteen who speaks more English than most of them, explains to me that this is the "cyclone" temple. A cyclone came through in 2000 that destroyed pretty much the entire ashram. Everything was reduced to rubble - but the statue of the god Shiva, sitting inside this temple, was left standing in the midst, completely untouched. Shiva is the Destroyer, aptly enough named. He sits serenely inside the small blue temple, gazing out at us impassionately.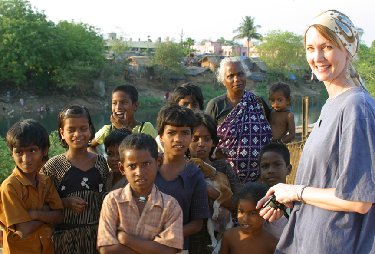 The bell rings for daily prayer. It has been a long day for all of us, so the volunteers take our leave. Back at the hotel we all shower and meet downstairs in the restaurant. It is busy, hopping almost to capacity on a Sunday night. We are, of course, the only Westerners in the place. In fact, we are the only Westerners in the entire town, and haven't seen a single other since arriving in Cuttack. Everyone stares constantly - we are a spectacle wherever we go. "Here comes the freak show," says Caroline. We are the bearded ladies, the mermaids. We are very possibly the only Americans many of these people have ever seen in real life - straight out of the television or the newspapers.
Relaxing after the day
We spend two and a half hours in the restaurant, drinking Kingfisher beer and passing around family-style plates of naan bread, grilled prawns, tandoori chicken and boti kabobs. We talk of our experience so far, the incredible children, the overwhelming aura of love and joy in the ashram. We tell jokes, we laugh, as everyone else stares at us in curiosity and fascination. As we leave we notice that ours is the only table with a collection of empty beer bottles on it - most Hindus do not drink - and we are suddenly self-conscious.