The Preston Resort in Melbourne
Monday - 9 Dec 2002
Melbourne - Australia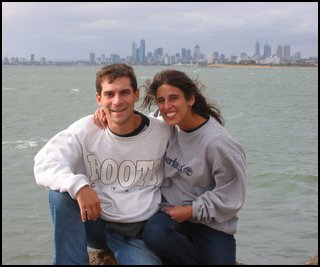 We arrived in Melbourne on Monday Dec 9 after an easy overnight bus ride from Sydney. When we got the city we called Daniel Preston. Daniel was the cousin of a friend of Jen's aunt and uncle (did you get all of that?) and had offered, along with his parents, to put us up and show us around the city. Luckily for us, Daniel had two days off from work. Daniel picked us up from the train station (subway) and drove us to his parent's house in Caulfield, where we got a chance to shower and change. He then took us downtown to his office building where we got a fantastic view of the city. Afterwards, Daniel walked us around the downtown and gave Jen a good summary of where the opal shops were located. With our new found knowledge, Daniel left us on our own, and we managed to shop, and of course buy an opal. After our shopping we returned to the Preston's house and Daniel took us to a pier near his house where we got a great view of the downtown and got a chance to watch some kite surfing. At dinnertime, we returned to the Preston's and met Daniels wife (Jodi), parents (Harry and Margaret), and sister (Rebecca). We sat down and had our first true homecooked meal in months, which was excellent. After dinner we went for a brief drive around the area before ending the evening.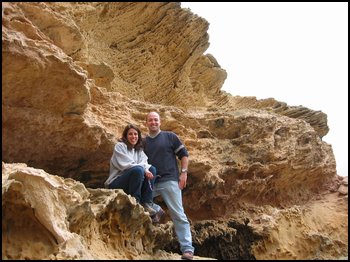 The next day we woke up at 9am after a fantastic night's sleep. It was nice to not have to worry about money belts or bugs for a change. Daniel picked us up at 10am and drove us out of the city, towards the eastern coastline of the bay. An hour later, we drove up a small mountain and took in a great view of the bay and the countryside. We then headed to Arthur's Seat Maze and got a chance to get lost in a hedgemaze as well as to play some outdoor puzzles in the gardens. From there we drove to Sorrento which was a coastal town that was a popular vacation spot for people from Melbourne. We enjoyed a greasy lunch before making our way to Portsea, which is a town that is located at the tip of where the bay meets the ocean. On the left side, the water is calm, while on the right it is rough and unswimmable. We went to see a rock formation called London Bridge that sits along the shorline. We decided to climb the steep and jagged rocks and take in the view from the top. The climb up was a little dangerous, but not nearly as bad as the climb down. Nevertheless, we made it down with no injury and then headed back to Melbourne. That night we enjoyed our second home cooked meal with Harry and Margaret and then went for a short drive to see some of the houses in the nearby neighbourhoods.
The next day Margaret's brother, Leon and his wife Miriam picked us up and showed us around the city. We first stopped to see their house, which had just undergone 1 year's worth of rennovations. It was impressive and the view of the city from the third floor was excellent. We then went to the Botanical gardens and had a chance to feed some black swans, ducks, eels and a few other animals. We then went for a walk in the park and were impressed to see how well the park was designed for walkers and cyclists. Afterwards we went for an authentic Vietnamese lunch before saying goodbye to Leon and Miriam and then heading downtown. We picked up Jen's opal, which had been set into a pendant, and spent a couple of hours walking around the area. We then returned to Harry and Margaret's and had another great dinner. Afterwards, Margaret took us to see the Crown Casino. As we entered, Jen got carded by the local bouncer, who was not convinced that Jen was over the legal age (18). Eventually another bouncer let her in. Jen was a little peeved and seriously considered going back to get her ID, just so she could show it to the bouncer. We ended the night by wondering around the area and taking in the city by night.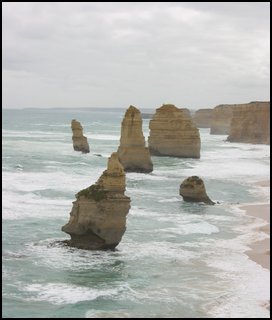 The next day we got up early and caught a bus to see the Great Ocean Road. The trip was a full day event, covering 700km, but it turned out to be well worth it. The driver/tour guide was great and extremely knowledgeable. We stopped at a few interesting places on the way, including Bell's beach, a golf course that is home to a few dozen kangaroo (they lie on the green and the golfers have to try to avoid hitting them), Apollo Bay, the Otway National Park (where you could see Koala's in the wild), and Mait's Rest (which was a rainforest). By this point it was 4pm and we finally came to the big attraction: the 12 Apostles. The Apostles are huge rock formations that were originally part of the shore but have become stand alone pillars due to the continual erosion of the rock by the ocean. While a little touristy, it was impressive and worth the trip. We then stopped at London Bridge (a different one from what we had seen before) and Port Campbell before returning to Melbourne at 10pm. We retired for the night, exhausted from the day's travel. The next day Harry drove us to the airport and we said our goodbyes. The Preston's had been extremely kind and generous to us on our trip and it was great to relax in a non-backpacker environment for a few days. We felt refreshed and ready to tackle the last piece of our journey: New Zealand.